Its Wednesday and that means items are back in stock and new promos!
This week Young Living is offering kids products for a limited time plus a 20 percent discount on some KidScents classics. From non-toxic shampoo to enzymes, we've got your kids covered! For moms everywhere, you'll have peace of mind using these products containing the purest essential oils and safe ingredients!
** This promotion will run from May 20 at 12 noon, MT, through May 27 at 11:59 p.m., MT. 🌈Available for a limited time with limits🌈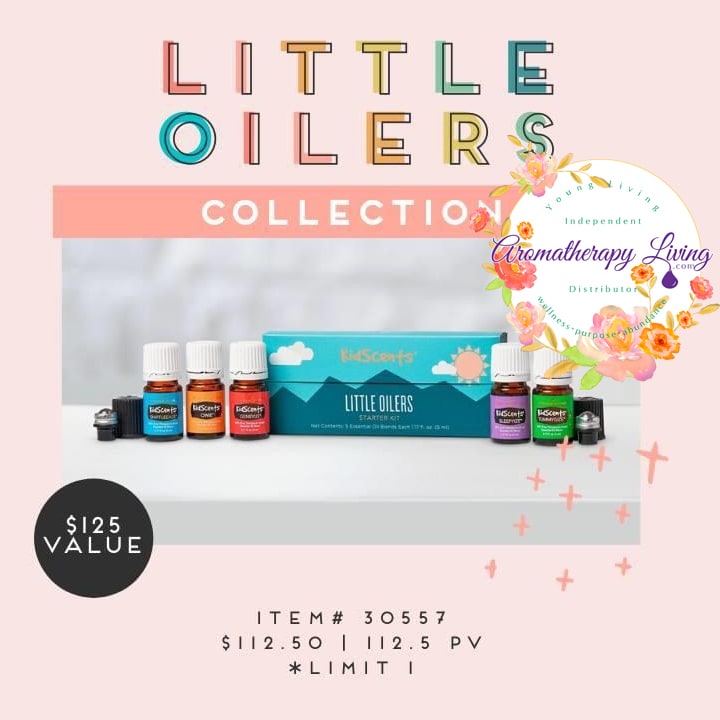 🦋Little Oilers Collection
Item No.: 30557
Wholesale : $112.50
PV: 112.50
Limit 1; shop only
We haven't seen this collection in a long time - packaged beautifully, this set comes with KidScents SniffleEase, Owie, GeneYus, SleepyIze and TummyGize, complete with 2 AromaGlide fitments that can turn each bottle into a roll-on! Packaged in a brand new Little Oilers branded package. This set is great for any home with littles (or bigs, lets me honest, I use the tummygize & geneYus alot!).

🦋Gentle Baby essential oil blend, 15 ml
Item No.: 3345
Wholesale: $48.75
PV: 48.75
Limit 1; shop only
This is a THROWBACK! We haven't seen this BABY in 15mL in forever! This gentle blend is calming, grounding, and soothing. Applied topically or dropped in the diffuser, littles and bigs can find the benefits of this beautiful blend. I personally adore this with Northern Lights Black Spruce in the diffuser.

🦋Peace & Calming essential oil blend, 15 ml
Item No.: 3393
Wholesale: $68.50
PV: 68.50
Limit 1; shop only
"I already have enough Peace & Calming" said NO ONE, EVER!!! You can never have too much P&C. This 15mL is a value with 250-300 drops of peace & calming ready to go! If you have kids - you need this. If you have pets - you need this. If you have stress - you need this. If you sleep - you need this. Okay, you got my point. Don't miss out on this bottle of AWESOME.

🌈Available at a discounted rate with NO limits for Shop only:🌈

🦋KidScents Lotion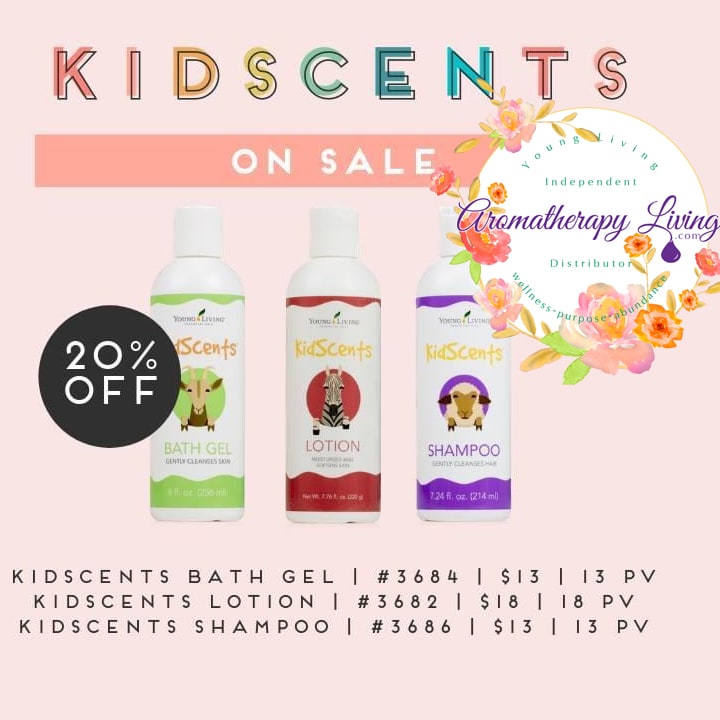 Item No.: 3682
Wholesale Price: $18
PV: 18
If I told you this lotion made 2-ingredient play-dough, would you believe me? Yep. A bottle of this and combine with cornstarch until play-dough consistency. You bet I will be grabbing a few of these bottles. So, not only can you use it to nourish the kids skin after being in the sun, or after a bath, but they also get a fun activity that we know has safe ingredients!

🦋KidScents Bath Gel
Item No.: 3684
Wholesale Price: $13
PV: 13
Kids LOVE this gel. Adults also been known to use this - Shhhhh, they don't have to know!

🦋KidScents Shampoo
Item No.: 3686
Wholesale Price: $13
PV: 13
This versatile shampoo is safe and gentle for the kids. You can also add a few drops of Rosemary and Tea Tree!
I'm Sorry, WHAT?! These items are INCREDIBLE Values and you don't want to miss out adding them to your cart this week!
🦋Seedlings Baby Wipes
Item No.: 20428
WHS: $8.75
PV: 7.0
Shop and Essential Rewards, No limit
When it comes to babies, there is no compromise. What you put on their skin matters. Did you know that most wipes found on store shelves contain ingredients that can actually cause skin irritation? Weird right? I know....So, trust your babies skin to a company that cares about the ingredients. These also double as make-up remover wipes, dryer sheets, and freshen-me-up wipes in a pinch.
🦋KidScents MightyZyme Chewable Tablets
Item No.: 3259
WHS: $39.75
PV: 39.75


Shop and Essential Rewards, No limit
Poor digestion leaves the body and the immune system with a lack of nutritional factors that support immune function and the function of the entire body. Supplement products that incorporate enzymes can help to support digestive and immune health. Did you hear that? digestive enzymes are critical to not only the digestive system, but help support the immune system as well. Have you gone down the research of gut health and immune system? Oh! Have fun today, and let me know what you find. These chewables contain enzymes that naturally occur in the body that support and assist the digestive needs of growing bodies and the normal digestion of foods.
Get these wonderful oily products for your kids at a discount today!
Comments are currently closed
Subscribe to My Updates
Here's some information about the list that you're signing up for. It will populate the description from their account.
Free Email Class: Essential Oils 101
Learn all the basics on essential oils in my FREE Essential Oils 101 Email Course. I'll also share DIY beauty and skin care recipes, homemade cleaners and other practical uses for essential oils to help you save money too.
Ready to begin a healthier life?
Get a Starter Kit and SAVE!
Most of us begin our journey by choosing a Premium Starter Kit. The kits offer considerable value for your money (significantly lower than paying retail), and they contain enough full-size items to ensure initial success using Young Living.


Check It Out
For Home, health, & fitness
Products for Everyone!
These products celebrate the harmony between nature, body, mind, and soul. Have you noticed that walking through lavender fields or a pine forest seems to instantly awaken your senses — from the energizing aromas to the feelings of well-being the smell evokes? Young Living infuses this into everything they create.
Next Event Title
This is a description of the event pulled from the user's account, talking about how awesome it is going to be.